DuoNeb
Ipratopium Bromide in combination with Albuterol Sulfate
DuoNeb is a sterile inhalation solution containing a combination of albuterol and ipratropium. Albuterol and ipratropium are bronchodilators that relax muscles in the airways and increase air flow to the lungs. DuoNeb inhalation solution is used to prevent bronchospasm in people with chronic obstructive pulmonary disease (COPD) who are also using other medicines to control their condition.
Pronunciation:
Ii-pra-TROO-pee-um BROO-myde with al-BYOO-te-role
Drug Classification:
Controller and Reliever
Other Names:
DuoNeb (DUE-ow-neb)
How Supplied?
DuoNeb (ipratropium bromide and albuterol sulfate) is supplied as a 3-mL sterile solution for nebulization in sterile low-density polyethylene unit-dose vials. Store in pouch until time of use. Supplied in cartons.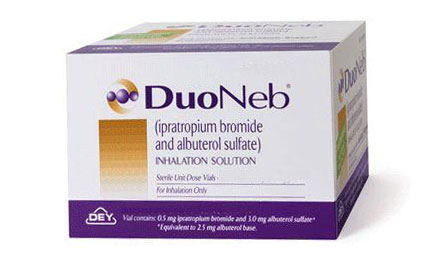 Are DuoNeb and Ventolin the Same Thing?
DuoNeb (beclomethasone dipropionate) and Ventolin HFA (albuterol sulfate inhalation aerosol) are used to treat asthma. DuoNeb and Ventolin HFA belong to different drug classes. DuoNeb is a steroid and Ventolin HFA is a bronchodilator. Ventolin HFA is also used to prevent exercise-induced bronchospasm.
Why is this medication prescribed?
To reduce bronchospasm in patients with COPD.
When should it be used?
DuoNeb is typically used when those with COPD continue to have evidence of bronchospasm and require a second fast-acting bronchodilator.
Typical dosing and age-specific information:
The normal dose of DuoNeb solution is one unit dose vial (containing 0.5 mg of Ipratropium Bromide with 3.0 mg of Albuterol Sulfate) taken via nebulizer four times a day. Patients may take additional nebulizer treatments as required by their physician. DuoNeb is for adults; safety and efficacy have not been determined in children.
How should this medication be used?
DuoNeb should be used in a nebulizer with a mask or mouthpiece, and is taken by inhalation over a period of 5 to 15 minutes.
What special instructions should I follow while using this medication?
DuoNeb should be used a replacement if using the two drugs Albuterol Sulfate and Ipratopium Bromide as a nebulizer treatment in separate vials so that the two solutions are combined in one premixed, pre-measured unit dosage. This will improve ease of use and help to avoid medication errors.
What side effects can this medication cause?
paradoxical bronchospasm
dizziness
nervousness
tremor
hoarseness
insomnia
muscle aches
increased sputum
bad taste
headache
flu
chest pain
edema
fatigue
dry mouth
diarrhea
upset stomach
increased heart rate or blood pressure
chest pain
Use with caution if you have cardiac disorders, especially coronary insufficiency, cardiac arrhythmias, and hypertension. Use with caution if you have narrow-angle glaucoma, prostatic hypertrophy, bladder-neck obstruction, convulsive disorders, hyperthyroidism, diabetic mellitus, in those unusually responsive to other bronchodilators, or if you have kidney or liver disease.
What other precautions should I follow while using this medication?
This medication has a history of hypersensitivity to soya lecithin or related food products, such as soybean and peanuts.
What storage conditions are necessary for this medication?
Store between 59°F (15°C) and 86°F (30°Celsius). Avoid excess humidity. For optimal results the canister should be at room temperature before use. Shake well before using.